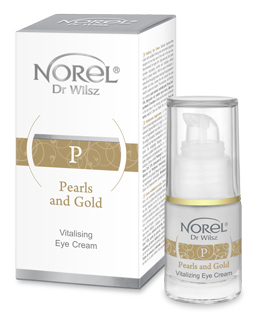 Pearls & Gold
Vitalising Eye Cream
Ref. DZ 051
Delicate fragrance-free cream with excellent firming and anti-wrinkle properties designed for the daily care of fine skin in the eye area. Recommended for ages 50+. Silky-textured, the cream provides long-lasting comfort and hydration without leaving a greasy residue. With its unique formulation, it slows down the aging process, reducing the appearance of wrinkles and lines. Leaves the skin around the eyes smooth, supple and radiant.
The exclusive, rich formulation contains: pearl extract, colloidal gold, Rona Care® VTA, Abyssinian oil, sodium hyaluronate, allantoin, panthenol.
Directions: Gently pat the cream into the skin in the eye area in the morning and evening.
30 ml