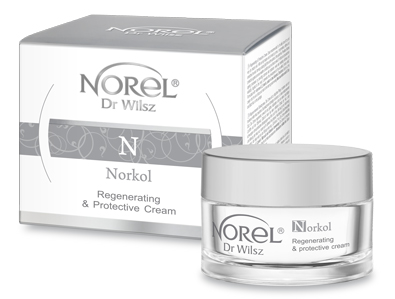 Norkol
Regenerating & Protective Cream
Ref. DK 035
Regenerating & Protective Cream. Cream recommended for the daily care of dry and very dry mature skin. With an oily texture and al relaxing aroma, it regenerates, softens and smoothes the skin, forming a lasting lipid film on the surface of the epidermis. Provides effective protection against adverse weather conditions such as frost or wind. It inhibits keratosis and skin ageing processes by providing optimum skin hydration levels and restoring softness and elasticity. Applied to the neck, it prevents the development of the so-called "chicken skin".
Formulated with: vitamins A, E, lanolin, castor oil and allantoin.
Directions: Gently rub the cream into the skin of face and neck in the morning and evening.
50 ml