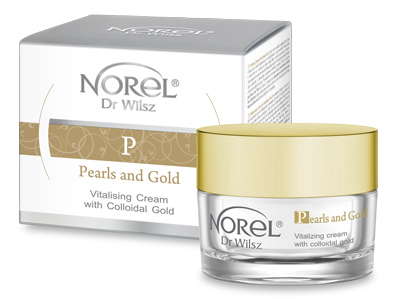 Pearls & Gold
Vitalising Cream with Colloidal Gold
Ref. DK 078
Velvety cream specifically designed for all types of mature skin in need of regeneration, improved tightness and tone. An excellent make-up base, it revives tired skin, providing an instant optical effect of smooth and radiant complexion. Used regularly, the cream improves skin firmness and elasticity. Formulated with carefully selected active ingredients, it demonstrates exceptional anti-wrinkle properties. The skin becomes smoother and softer to the touch.
The exclusive, rich formulation contains: pearl extract, colloidal gold, Rona Care® VTA (rutin, vitamin C, hydroxyproline), Abyssinian oil, sodium hyaluronate, mica.
Directions: Gently rub the cream into the skin of face and neck in the morning and evening.
50 ml