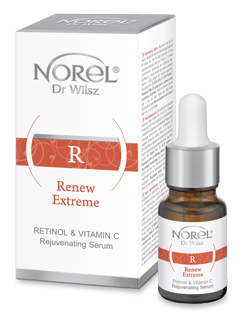 Renew Extreme
RETINOL & VITAMIN C Rejuvenating Serum
Ref. DA 256
Silky serum with light oil texture, designed for use as an intensive repair treatment for mature skin. With the latest generation of active ingredients including retinol and vitamin C, it provides comprehensive rejuvenating and brightening care. Lightened up, velvety smooth and radiant complexion regains a visibly younger and healthier appearance.
Formulated with: 2% Retinol H10, 2% VC-IP Vitamin C, Plantasens® Mink Oil, grape seed oil, soybean oil and tocotrienols.
Directions: Gently rub the serum into the skin of face and neck. Follow with Triple Active Rejuvenating Cream.
10 ml