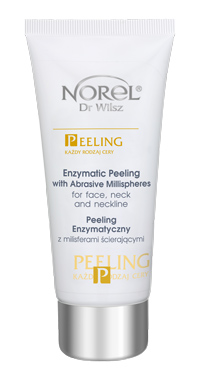 Peeling
Enzymatic Peeling with abrasive millispheres
Ref. DP 089
Peeling is based on exfoliating pineapple and papain enzymes and peeling millispheres. It is recommended for oily and combination skin. The peeling millispheres enhance the exfoliating effect, gently and effectively removing the epidermal layer softened by enzymes. The product leaves the complexion perfectly smooth and brighter, providing hydration and slightly tightening the skin.
The peeling contains: bromelain and papain enzymes, peeling millispheres.
How to use: 1-2 times per week. Apply the peeling in a thin layer to the skin of the face, neck and neckline, and leave it on for 5-10 minutes. Then gently rub the product into the skin in circular motions. Wash the product off with warm water. Avoid the eye area.
100 ml