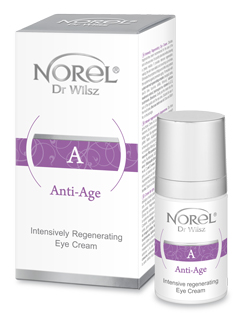 Anti-Age
Intensively Regenerating Eye Cream
Ref. DZ 047
Delicate, fragrance-free cream recommended for the care of the skin in the eye area. It is quickly absorbed without leaving a greasy residue. It provides intensive regeneration, making the skin more elastic and smoothing out wrinkles. Eliminates the symptoms of fatigue and effectively protects thin epidermis against premature aging.
Formulated with: a plant-derived regenerating complex (marigold, aralia, devil's claw, liquorice, alfalfa, hibiscus), shiitake mushroom extract, hydroxyproline, vitamins A, C, E, tocotrienols.
Directions: Gently pat the cream into the skin of the eyelids and the eye area. Suitable for use in the mouth area.
15 ml