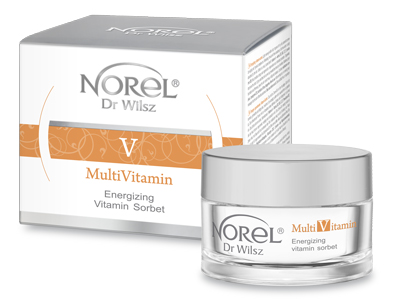 MultiVitamin
Energizing Vitamin Sorbet
Ref. DK 289
Light cream-gel with a fruity fragrance for dry, oily, exposed to prema-ture aging and hypoxic complexions. Refreshing formula with the consistency of fat-free sorbet is rapidly absorbed by the skin. Sorbet is a real "vitamin bomb" (vitamin A – retinol, B3, B6, C, E, F, provita- min B5) that provides strong skin regeneration, rejuvenation and antioxidant protection. Oxygenates, improves the color, of gray and tired skin as well as prevents the formation of wrinkles. Maintains proper hydration and firmness, gives the skin smoothness, vitality and radiance.
Contains: multivitamin com-plex, coenzyme Q10, extracts of lime, tangerine.
How to use: In the morning and / or evening gently massage into the skin of the face and neck.
50 ml